CHIMERA Options & Features
Chemical Inventory Management and Electronic Reporting Application
CHIMERA
provides various tools which are designed to help simplify inventory management while also providing quick and easy access to crucial hazard and safety data.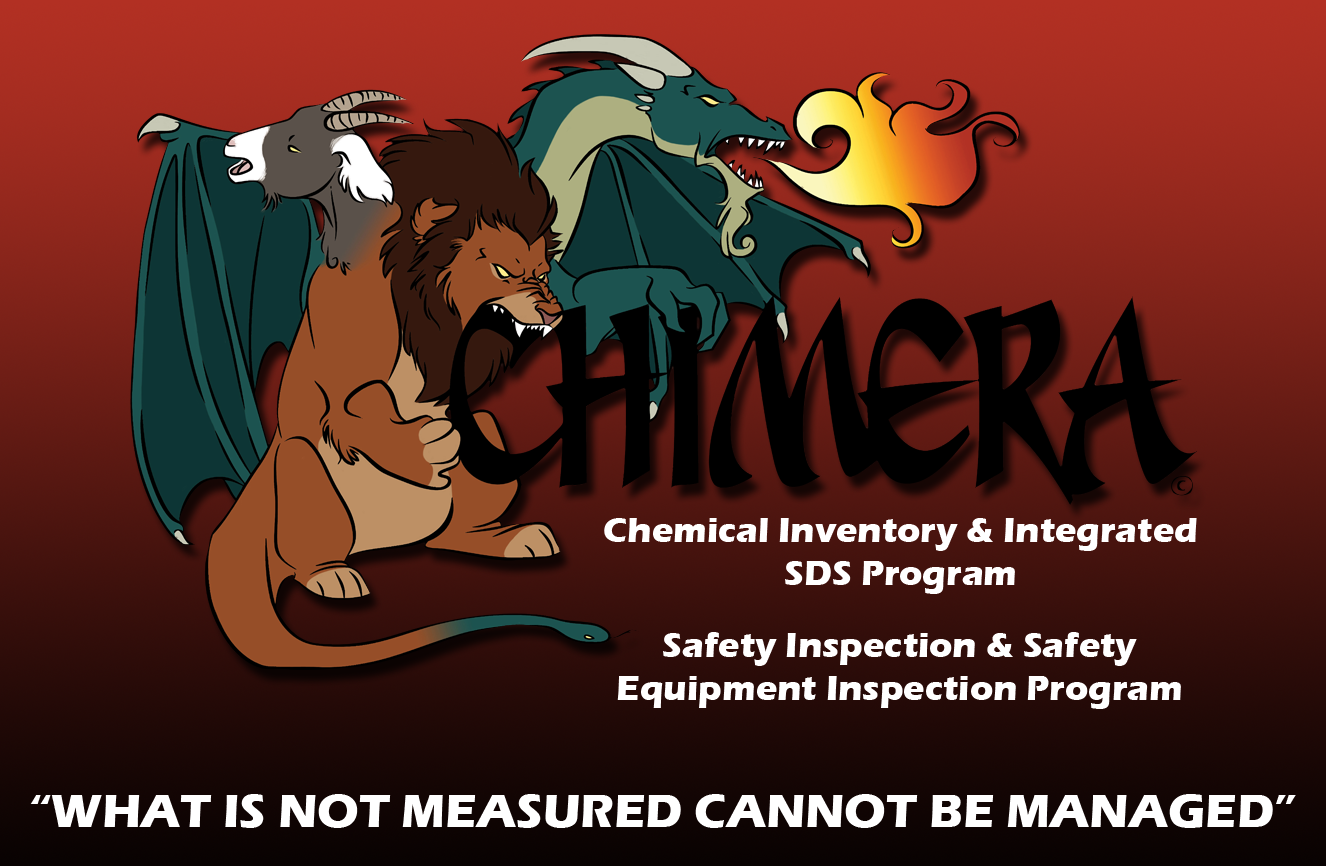 CHIMERA
offers clients three options. Cost and services offered are dependent on the option selected:
The first option is a Self-Managed Program. This program provides clients with the means to track their chemical inventory and incorporate SDSs.
The second option is the CHIMERA Managed Program. This program provides clients with a means to expeditiously develop their program by having CHIMERA personnel locate SDSs and extract pertinent information.
The third option allows clients to start with the CHIMERA Managed Program to expedite setting up their chemical inventory program and later change to the Self-Managed Program to reduce cost.
Equipment Management and Inspection Application
The Equipment Management and Inspection Application assists users in managing any type of equipment the user may need to track. This can include fume hoods, fire extinguishers, AEDs, eyewash/showers, fork-lifts, etc. The user can add and manage equipment types while creating custom inspection templates that are easily accessible through the use of mobile devices. Additionally,
CHIMERA
clients will be able to identify potential issues, capture key information, and track trends for any equipment which they manage.
Inspection Application
The Inspection Application is built to enable users to create their own custom inspections with a variety of input types and photo integration, allowing for clear and concise reports. Users of this system will also note the simple mobile friendly interface that allows them to conduct their inspections with ease. Additionally, reports are located in an easily accessible location. This allows the user to quickly review the initial inspection report, track follow-up inspections, comment on pending items and add any new items that must be addressed. Furthermore, with the integrated user management, administrators can track who has completed their inspections, create and view Audit List results, in addition to various other reporting options. Once completed, quick access to key analytical data is available through a refined set of reports.
Security and Backup
CHIMERA
is powered by Amazon Web Services, including all security and backup systems. For more information on AWS cloud security, please visit
AWS Security and Compliance Information
.
Would you like a demonstration?
Take
CHIMERA
for a test drive and see for yourself how user friendly it is and how
CHIMERA
can improve the efficiency and effectiveness of your safety program. Please fill out the form below: